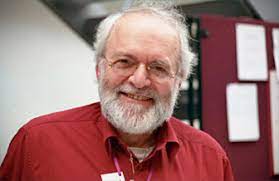 FRANCIS TREUHERZ
Francis Treuherz FSHom, had beenin practice since 1984 and has devoted himself to homeopathy. Formerly Editor of the Society journal, and a Board member for over 20 years, his journey in homeopathy has seen him working in an NHS practice, effective on the homeopathic helpline, bringing computer repertories to homeopaths, writing two books – and collating many of his articles and thoughts into a third book soon to be published. Francis has been a valued trustee of the British Homeopathic Association and the Homeopathic Action Trust. An incurable collector of homeopathic artefacts, his homeopathic library contains more than 7,000 books.
He was in NHS practice from 1990 to 1993 at the Marylebone Health Centre. He began his studies privately in the mid 1970s and then studied at the College of Homeopathy in London. 
Then he studied at -
• Greek School of Classical Homeopathy with George Vithoulkas, winner of the alternative Swedish Nobel Prize for Medicine; and his star student and colleague Dr Vassilis Ghegas in Alonissos, Athens and London;
• In India with Dr Jugal Kishore, Dr Diwan Harish Chand, both physicians to the President of India and Dr HL Chitkara, editor of the famous journal Homeopathic Heritage in New Delhi;
• with Dr S. P Dey, Dr S. Dubey and the National Institute of Homeopathy (Hospital) in Calcutta;
• With famous author and researcher the late Dr Prakash Vakil and world renowned teacher Dr Rajan Sankaran in Bombay.
Francis Treuherz was a regular teacher at homeopathy schools Manchester, Helsinki, Stockholm and Prague, and a part time staffer at the University of Westminster B. Sc course in homeopathy.
He has also lectured in Amsterdam, Chichester, Galway, Helsinki, London, Manchester, Prague, San Francisco, San José, Seattle, Stockholm, Westminster. He was also a Trustee of the Homeopathy Action Trust for many years. He was editor of The Homeopath 1986-2003 and 2006-2010. Francis was a Board member and Hon Secretary of the Society of Homeopaths for some 20 years. In April 2017 he was again elected to the Board of the Society of Homeopaths. As a prescriber in different settings, in the inner city and the suburbs, in private and public practice Francis has become a skilled homeopath who will devote as much personal attention to each distant patient as he does with those who visit his consulting room. He has been a Trustee of the British Homeopathic Association.
Francis has been a contributor and developer of Mac Repertory and other special computer software for homeopathy since 1987. Since then he has used the program, promoted it, and trained hundreds people to use it in the UK, Ireland and internationally. 
Mr Treuherz is an acknowledged specialist in this field and has been widely published.Various published articles, book reviews and presentations:
Homeopathy in General Practice
A descriptive report of work with over 800 consecutive patients between 1993-1998, at Bounds Green Group Practice, Society of Homeopaths 1999. Summary paper presented at conference of the Royal London Homeopathic Hospital Improving the Success of Homeopathy 1999. Research Grant from the Faculty of Homeopathy is gratefully acknowledged. A copy of this 32-page report is on the resources page in the Clinical section.