Keynotes & Redline Symptoms Of Materia Medica
---
---
We all know that reading and memorizing the Materia Medica is a must for homeopathic practice but how often are we able to do that? Not always! So as to make Materia Medica simple and easily referable Lippe here presents a compiled work on keynotes of homeopathic ...Read More
We all know that reading and memorizing the Materia Medica is a must for homeopathic practice but how often are we able to do that? Not always! So as to make Materia Medica simple and easily referable Lippe here presents a compiled work on keynotes of homeopathic drugs. It is the author's masterpiece "Keynotes" adding there to the characteristic symptoms of the most important remedies under the style, "Red line symptoms" gleaned from author's writings, appearing in several old foreign journals together with the other important ones, collected from the writings of the great Homeopaths of the by- gone days.   In fact, these are the symptoms we need to be abreasted with, to have a successful prescription and hence successful results. The author also puts beyond the red line, the chains of more symptoms leading to correct diagnosis, in a particular characteristic combination. There is also a mention of the modalities and relationship to make our study more complete and easy to analyse. Each sterling symptom has the name of its author indicated against it in abbreviatory form other than Dr. Lippe.
The book is an accurate and reliable compilation and the fullest collection of the most common remedies. It is a ready reminder of the common important facts of our vast Materia Medica which will fulfill its purpose and prove the greatest aid to the profession and students alike.
| | |
| --- | --- |
| Pages | 785 |
| Format | Paperback |
| Imprint | B.Jain Regular |
| Language | English |
Add a Review
Your email address will not be published. Required fields are marked *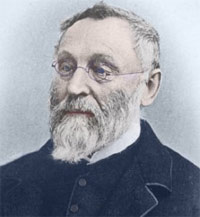 A V LIPPE (Adolph Von Lippe)
Adolph Von Lippe (1812 to 1888) was a one of the first graduates of homeopathy in America. Lippe taught alongside Constantine Hering at the Hahnemann Medical College in Philadelphia and wrote several very influential books which are still standard textbooks today for modern homeopaths. Lippe also translated many important homeopathic texts, thus enriching American homeopathy. Lippe was a founding member of the International Hahnemannian Association and he was a colleague of James Tyler... Read More
B Jain Special Deal! Upto 22% Discount On Selected Books. Hurry!